There's a piece of conventional financial wisdom called the Latte Factor. It goes like this: if you're looking to save money or pay off debt, start by skipping small luxuries like lattes and instead put that money toward your financial goals. The single digit savings will add up to a significant amount over time. All because you had the fortitude to practice a little self-control. It's a simple, effective way to find some wiggle room in your budget and a great first step toward living a frugal lifestyle.
The Latte Factor is both virtuous and practical. It gives its frugal practitioner a sense of self-righteous superiority over those who continue to waste their money on overpriced, over-sweetened, caffeinated beverages every day. And because it's such a simple solution, those preaching the gospel of frugality peddle it like a magic elixir. Can't seem to save money? Just skip the latte! It works miracles!
Yet to those who truly struggle with systemic poverty, getting advice about the Latte Factor feels horribly condescending. In fact, being told that skipping a small luxury here and there will raise you up out of your low-income status feels downright cruel and deliberately ignorant. Because in cases of economic disenfranchisement, a lack of frugality is not the root of the problem.
In fact, dispensing advice about the Latte Factor to those who live one late paycheck or medical emergency away from homelessness or complete financial ruin sounds a helluva lot like poor shaming.
The Latte Factor isn't bad advice. It's actually great advice for a simple reason. Limiting your spending automatically increases the amount of money you have at your disposal. And that increases the amount of money you can potentially save or invest. And arguably, the less money you make, the more relevant being frugal becomes. So we are definitely not saying that "Be more frugal!" is bad advice. But it is not the most applicable advice for all kinds of people who live in all kinds of poverty.
What we mean by "poor shaming"
Let's start with an example:
This meme showed up on the Mr. Money Mustache forum recently, on the Anti-Mustachian Wall of Shame and Comedy. And the point-missers came out of the woodwork. They lamented how it enabled bad financial decision making and perpetuated a life of wasteful spending. (To be fair, some people eventually brought the conversation around to admitting that the Latte Factor had literally nothing to do with the problems of systemic poverty.) They're totally right that being frugal and deploying the Latte Factor can help you save money by leaps and bounds! The problem is, that's not what the author of the meme is talking about. Like, at all.
Income inequality is a thing. Wage stagnation is a thing. Skyrocketing cost of living, real estate prices, and tuition are a thing. Lack of opportunity is a thing. And if you're starting the financial race with all of these albatrosses tied around your neck, then it's going to be much, much harder to get ahead simply by being frugal. You need other weapons in your arsenal as well. Touting the Latte Factor as a solution to all of these problems not only misses the point, it avoids the problem entirely.
It's like telling your dentist, "I never had access to dental care as a child. Now I have all these cavities that need to be filled," only for him to tell you, "No you don't. You just need to floss every day."
Here's more on income inequality:
The Latte Factor is a middle class concern
Of course it's a good idea to be frugal. No one's disputing that fact! Half the articles we Bitches write are about how to cut back on monetary output by buying shit secondhand, canceling gym memberships, taking advantage of free stuff, and not spending money on literal shit. We believe in frugality because it fucking works.
But cutting back on wasteful spending is a tactic for those who have money to waste in the first place. In other words, the Latte Factor is a fundamentally middle class concern. If you're already at rock bottom and barely scraping by, then you're dealing with bigger problems than a few dollars here and there spent on coffee.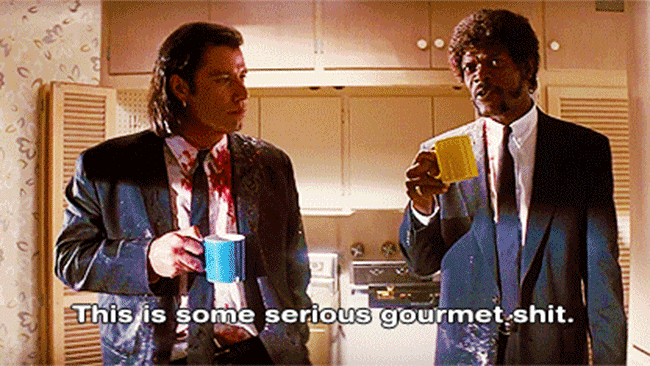 The poor don't need anyone to tell them to cut back on wasteful spending and give frugality a try. (For the purposes of this article, people living at, near, or below the federal poverty level.) They're already shopping the almost-expired manager's specials at the grocery store and turning the heat off at night. And they are making enormous sacrifices to feed their children or keep a roof over their heads. They're working like dogs for wages that would make anyone with options laugh out loud.
They don't need anyone to remind them that they could save a little money by not buying a latte. They are already painfully aware of the value of that money every second of their lives.
The comfortably middle class, on the other hand, could stand a reminder about the snowballing value of latte money. I remind myself of this often when I'm considering my savings or plans for early retirement. It never hurts to trim the fat! My life is comfortable, especially now that I've paid off my student loans. I can afford decadent indulgences like a fancy, frothy, barista-crafted drink every once in awhile. Or a new book. Netflix. Craft beer. Concert tickets. Lunch out with friends. All of this stunning luxury is easily within my grasp and I can cut back on it at any time.
But what if that small latte was the only extravagance I could afford? The only thing that made me feel hopeful and human all week? Well then I'd feel righteously furious at anyone who zeroed in on that one morale-boosting latte as both the root and the cure for my financial ailments.
Practice compassion instead of shaming the poor
When I was determined to pay off my student loans years ahead of schedule, I lived as lean as possible so I could put every dollar toward my student loan debt. I deployed the Latte Factor with fantastic results.
When my coworkers invited me to walk to the coffee shop with them, I'd join them on the walk and not buy anything. After several weeks my coworkers stopped asking why I never paid for lattes anymore.
One day I had a particularly fucktastical day at work. I was cranky and tired. I wanted a little something to make me feel better. So after months of deprivation, I bought myself a goddamn latte. A big one. With extra everything. This thing was a creamy, sugary mountain of decadent self-indulgence. It cost less than $5.
And one of my coworkers, who knew about my financial goals, gave me shit for it. "Wait a minute, should you be buying that latte when you still have student loans to pay off? What a slacker."
Friends? I lost my goddamn mind. I let him have it. Chewed him out right then and there in the coffee shop in front of everyone because I. Was. Tired. I had gone without simple, cheap luxuries for months. I had poured everything I had into my debt. And god fucking dammit, I was going to spend $4.25 on a latte and I was going to do it guilt-free because I deserved one tiny taste of happiness and luxury after being so fucking disciplined for so long.
He was teasing me, of course. And my reaction was more about my stress than about his silly comment. But it fucking hurt to feel judged for something so small when in every other aspect of my life I was working my ass off to be as frugal and financially efficient as possible.
The exhaustion of grinding poverty
I often think of that moment when I see people shaming Food Stamp users for buying something other than beans and rice. Or when people talk about how the poor wouldn't be "quite so poor" if they'd just stop drinking, smoking, buying McDonald's, paying for cable TV, buying their children toys for Christmas, [insert harmless human luxury here].
Because if I got that offended and exasperated while I had the option to pull back on my large debt payments… how must it feel to be scolded for a latte when that is the one humanizing treat you can ever afford to give yourself?
How must it feel to be told that your hourly wage of $7.25 and your rent that is 40% of your annual income are not what's keeping you poor, it's that small hot coffee you bought at Dunkin' Donuts this morning? What does it feel like to be told that your poverty is a moral failing that has nothing to do with systemic income inequality and everything to do with your lack of intelligence, virtue, and willpower? How must it feel to be told that you should be ashamed for trying to feel some small comfort in life when you've just been served an eviction notice?
Being frugal works to build savings and kill debt… when you have enough money to survive. Otherwise it's just a method of treading water.
The Latte Factor is not going to solve the fact that inflation has vastly outpaced wages in recent decades. It's not going to solve the education gap, or the gender and racial wage gaps. It's not going to stop soaring housing and healthcare prices or gentrification. And it's not going to save someone with no emergency fund who just got a $100,000 hospital bill.
Do not shame the poor by oversimplifying their financial situation to money wasted on lattes. Let them buy the $7 chocolate bar without your fucking commentary. They know it pays to be frugal. In fact, they know no other way.
Pin this article